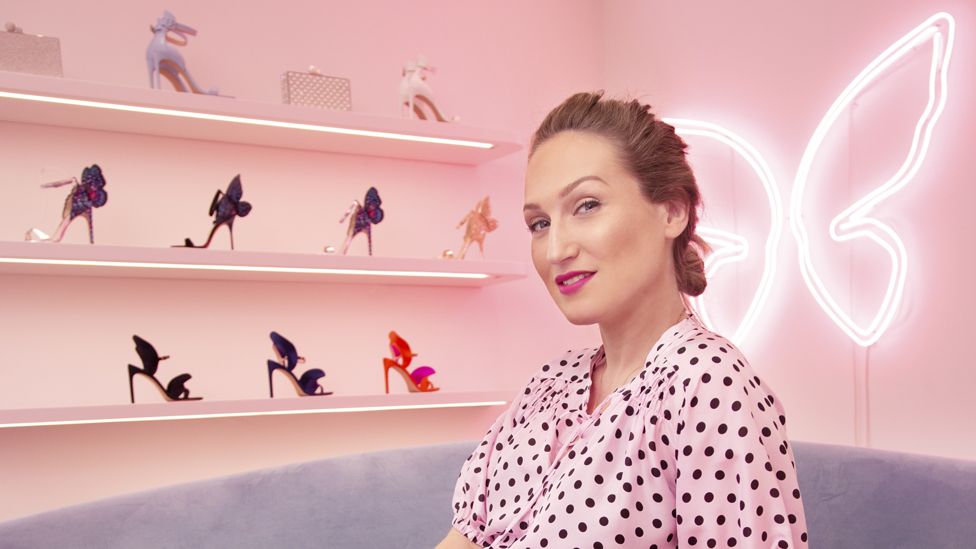 Sophia Webster's shoes have become a regular fixture on red carpets in recent years. The designer tells BBC News about building a brand, her celebrity fans, and how luxury labels justify their prices.
When was the last time you started a conga line in your office?
It may not be a common occurrence for most of us (sadly), but Sophia Webster had good reason to dance around her workplace in her company's early days.
Her designs, after all, had been catching the attention of Beyonce, Rihanna and Mariah Carey.
"When the office was a lot smaller and we were a smaller team, we used to just do the conga round the office when Rihanna wore our shoes and things like that, we'd just be screaming," laughs Webster.
"The office downstairs would be like 'are you okay? Is there a mouse?'. And we'd be like, 'No! Rihanna's worn our shoes!'"
The 33-year-old, who founded her eponymous label in 2012 after studying at Camberwell College of Art, has since become one of the UK fashion industry's brightest (and most colourful) young talents.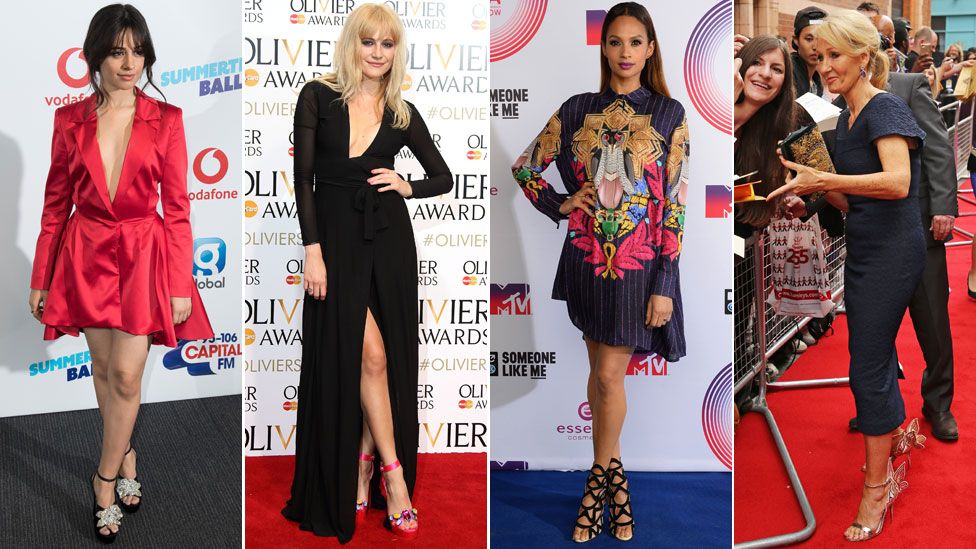 The conga-prompting Rihanna day is one of what Sophia describes as several "amazing moments" she's had so far in her career as a designer.
"Oprah recently gave her amazing speech at the Golden Globes wearing my shoes, and that was such an inspirational speech, so I was honoured that she chose to," she recalls.
Webster has now opened two stores of her own (the second launched this week in South Kensington) and her star has continued to rise.
Her playful style and use of bright colours led Vogue to describe her designs as "the closest shoes can get to confectionery".
The Daily Telegraph's Lisa Armstrong said: "Webster's whimsical styles with their butterfly winged backs, flower encrusted straps, ruffled crests, sherbet-colour patchworks and neon trims were so distinctive they immediately carved out a niche in a market."
Webster explains: "I love colour. I love designing things that are visually impactful and appealing. And I really love embellishments and coming up with different details of things to put on the shoe that I haven't seen before, which I think women are going to like."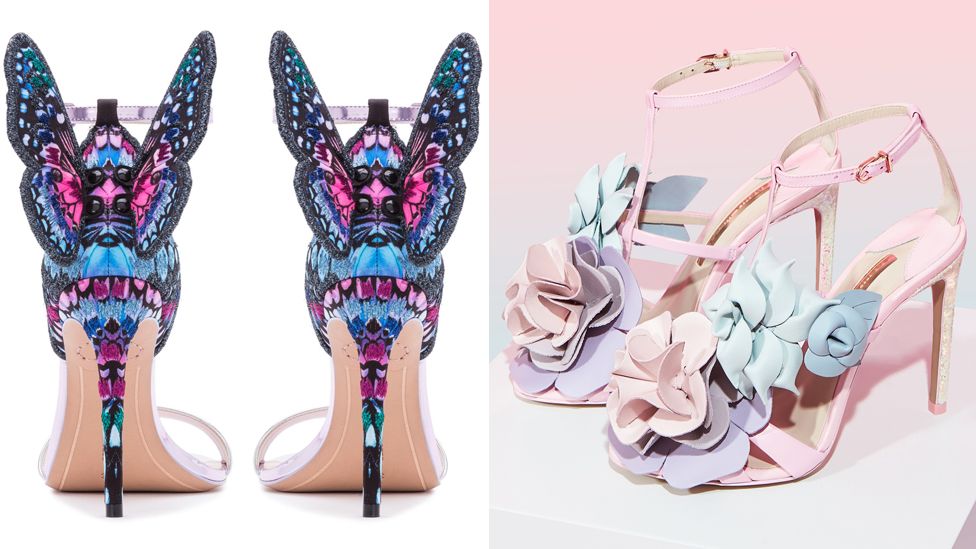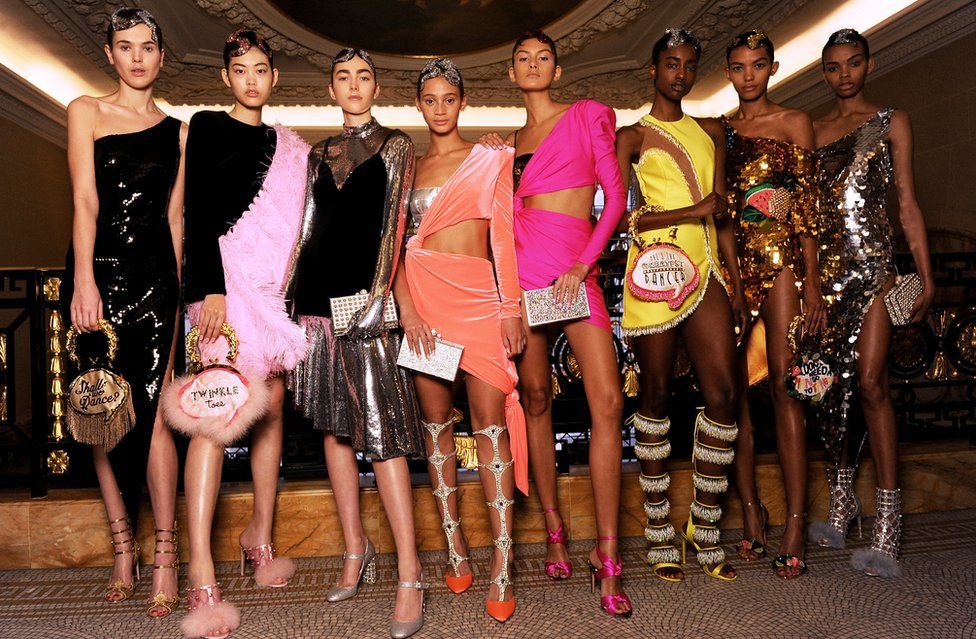 Shoe design is a specific and somewhat niche profession to end up in, and one that Webster hadn't intended to pursue.
"I started off at art college, I thought I was going to go into fine art, that was what my passion always was from quite a young age," she explains.
"So I was doing a foundation course in art and design and we did a lot of life drawing, and there was this one session where there was a fashion model who was changing outfits, and I found myself very focused on her shoes and drawing the shoes.
"And at the time I was getting into sculpture as well, so for me it was a combination of design and sculpture – creating something that in essence is a sculpture, it's like a wearable sculpture."
5 pop stars turned fashion designers
Philipp Plein: Meet fashion's bad boy
How this modelling agency 'can spot a smoker'
Webster may now be one of the few shoe designers to show collections at London Fashion Week, but before flying solo with her own brand she honed her craft by working for other shoe manufacturers.
"Before people start sketching shoes, you need to have a real knowledge and grounding in how to make shoes," she explains.
"I spent a lot of time working for other shoe designers and working in factories before I started my own line.
"I think before you can design shoes it's really good to understand how they're made and how they're constructed because there are just a lot of technical restrictions. You have to try and be as creative as you can within those restrictions."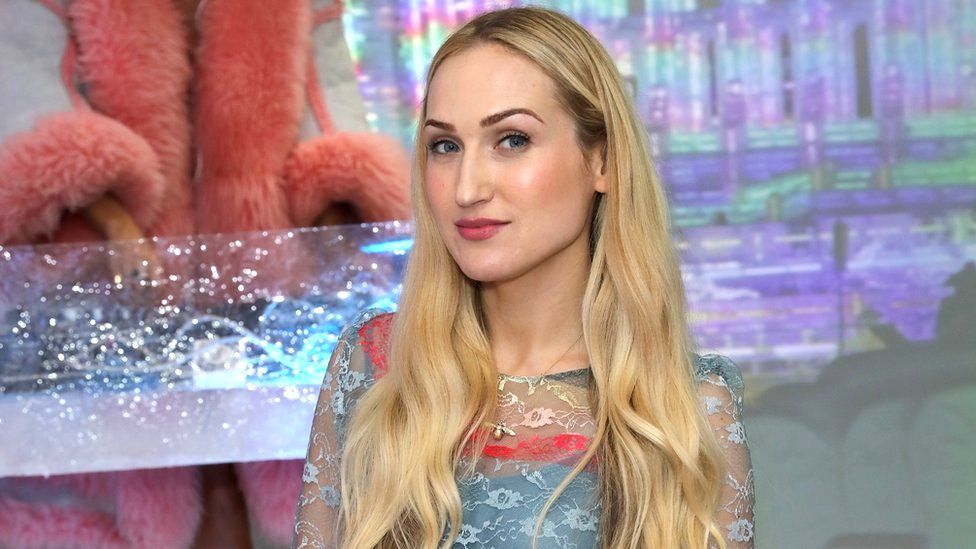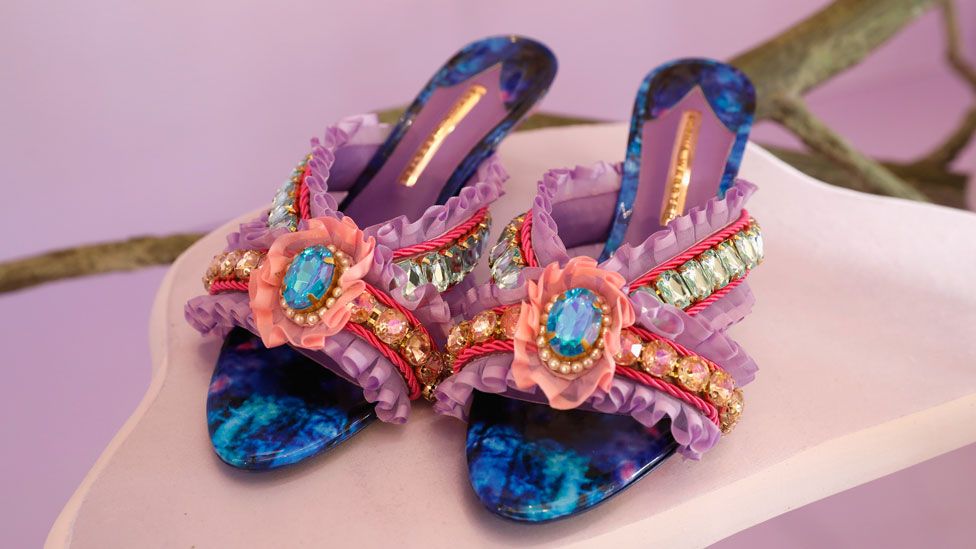 But buying a pair of Webster's shoes will set you back by several hundred pounds – although those in her children's range are cheaper.
High prices are, of course, a criticism regularly levelled at luxury brands. Flicking through the average fashion magazine, most consumers would find the featured clothes, accessories and shoes way out of their budget.
But, Webster argues: "The price point that my shoes are at is probably at the entry part of the luxury market, so for what you can get for a £400 pair of my shoes, for another luxury brand it would probably be £600-700."
Even then, most of us would find £400 a little steep for a pair of shoes, but Webster says a product's intricacy and quality often justifies the price tag.
"It's a level of detail, It's the materials they use, it's the finish of the techniques, and a lot of the shoes there's maybe two or three different elements that go into them," she says.
"Like the ones with the butterfly wings [she gestures to pair of shoes on the shelf], that's fully embroidered, so that's maybe coming from an embroider somewhere else in the world, being shipped back and forward, and there's lots of different stages to it.
"It's not a cheap shoe, but it's great quality, it's going to last."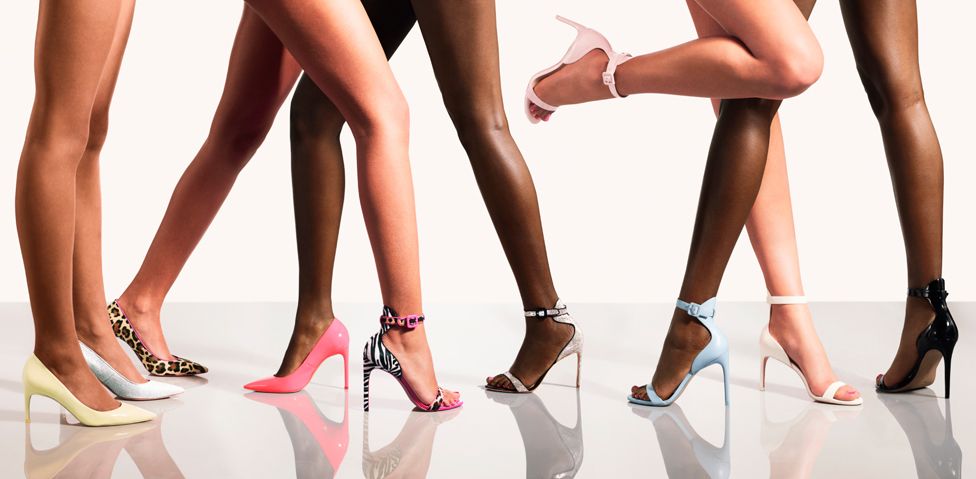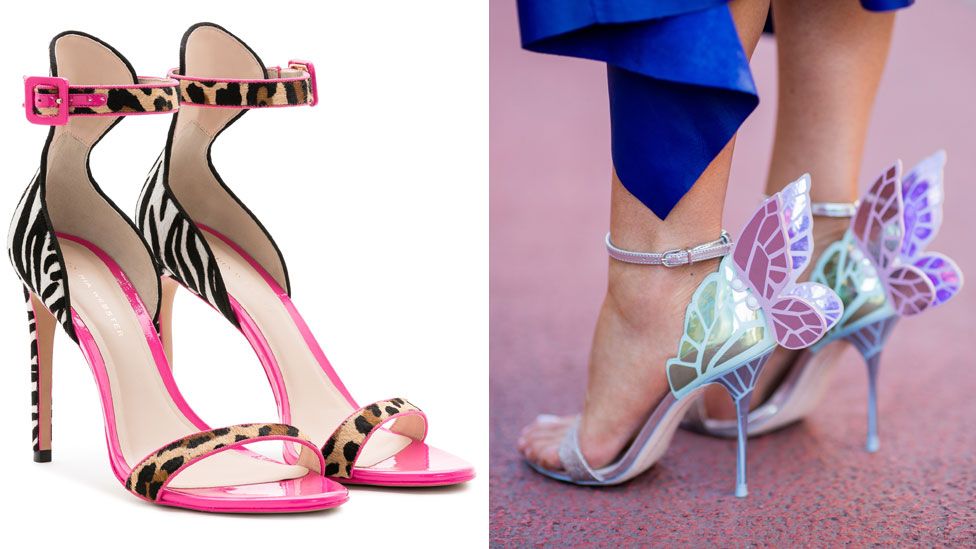 Despite Webster's label being relatively young, the designer says the fashion landscape is "very different" to when it first launched.
"What women wear on their feet is definitely changing," she explains.
"In the past, there were lots of platforms, very high, very sexy, and I think part of wearing a shoe that's been designed by a man, I don't know if that subconsciously played into that.
"But I think women are wearing a lot more mid-heels, more sneakers, and for me personally – being a female designing shoes for women – maybe I have a better understanding of what is and isn't comfortable."
If Webster's empathetic approach to shoe designing continues, she will likely be counting several more high profile figures as fans before long.
Which, in turn, means her office is unlikely to have seen its last conga line.
All pictures subject to copyright.
["Source-bbc"]