"Fashion? You don't want to study fashion, do you? You're bright. You could go to university." So, aged 17 and obsessed with Elle magazine, as well as making questionable clothes on an old Singer, I went to university. I did what my teachers thought was best: studied English, read Chaucer, got my degree. And then I went to fashion college.
Happily, the notion that fashion is only about clothes, and therefore superficial – surface in the most literal sense – is not as prevalent as it once was. Nor is the conviction that "clever" people should pursue a higher cause. While those with the fashion gene have always understood its depths, even those who would love to dismiss it can't fail to have noticed that fashion has far more power than simply the ability to shape your look. To discount fashion from the equation while acknowledging art, music, history and politics as agents of change is remiss – not least when fashion is currently more political than ever.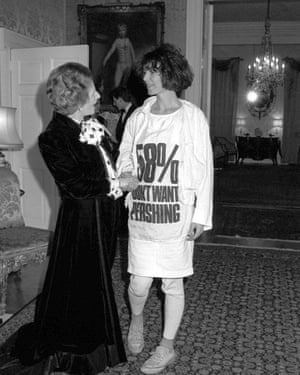 When the designer Katharine Hamnett wore a "58% Don't Want Pershing" T-shirt to meet then prime minister Margaret Thatcher at a Downing Street reception in 1984, she had no idea what she had started. Thirty years on, politically charged T-shirts are everywhere, and while the act of sticking some words on a tee might seem as pointless a gesture as it is empty, social media ensures that any message travels far beyond the catwalk.
When in September 2016 Dior's Maria Grazia Chiuri sent out T-shirts bearing the legend We Should All Be Feminists, opinion was divided, and not just because they cost £270 a pop. While it's easy to accuse Chiuri of virtue signalling (as many did), it did her a disservice. The T-shirts first appeared 12 months ago: fast forward to October 2017, and Chiuri's commitment to the feminist cause is steadfast. Why wouldn't it be? She's Dior's first female creative director in its 70-year history – a strong woman who wants to design for women like her.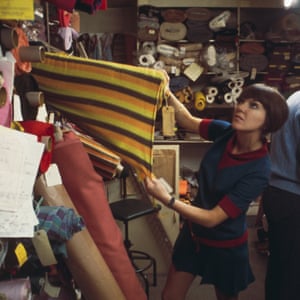 Besides, the female empowerment theme is perfectly in keeping with a house that first built its reputation on the "new look". Unlike many of his contemporaries, Christian Dior designed for real women, as opposed to some nebulous ideal. When in 1947 he revolutionised fashion with his Bar jackets and full, calf-length skirts, they were elegant, fun and a relief from drab wartime garb. But more than that, they were easy to move in. The freedom they afforded women was their most significant feature.
In 1974, when Beverly Johnson became the first African American model to appear on the cover of US Vogue, she was a lone voice calling for activism, completely unsupported. It was decades later that Naomi Campbell became powerful enough to follow in her footsteps, paving the way for models such as Jourdan Dunn and Neelam Gill to speak up about the racism they have encountered.
Here, in 2017, fashion has finally become #woke to the cause. Whether it's Leomie Anderson and London Myers speaking out about the low-level racism they've experienced from hair and makeup artists or Halima Aden becoming the first hijab-wearing model on the catwalk, fashion is now kicking and screaming its way to becoming more diverse. All hail Rihanna, whose Fenty Beauty range, featuring 40 shades of foundation, is the first brand to convincingly attempt to provide makeup for every skin tone. Such has been its success since launching in early October that it's expected to generate more than $100m (£75m) in revenue in its first year.
For all the doom and gloom in the world, the fashion industry is currently full of positives. It has always been an agent of change, but now, more than ever, these changes feel benevolent. Fashion has always been a powerful force. Long may it continue to be a force for good.
["Source-theguardian"]