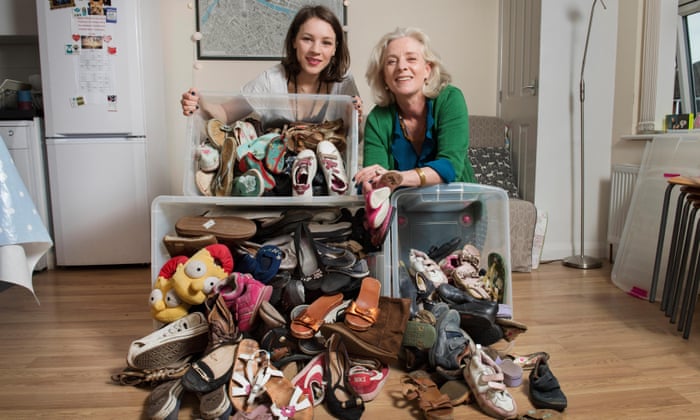 Sophie Turner and her daughter Leola and her shoes. Photograph: Linda Nylind for the Guardian
Sophie
When Leola was born, I started saving her shoes as a reminder of her growing up. I had studied art at college and shoes had always fascinated me. Unlike photographs, their style and feel are so evocative.
Leola knew, but never asked to look at them. It was only when my old school invited me to an open day for alumni last July and I offered to exhibit them as part of an installation that they were brought out of storage. I called it Childhood Footsteps and Leola helped me, each pair bringing up memories. From the pink baby shoes that she'd taken her first steps in to the high heels of today. Seeing them all laid out made me feel a huge sense of achievement; I'd survived single parenthood, raising four children – Leola, now 18, and her half-siblings, Kieran, 29, Josette, 27, and Marley, 26.
Leola and I have always had a special relationship because of the gap between her and her siblings, and because her father was absent from birth. Her siblings were from my marriage to my ex-husband, Conrad. We married in London when I was 26, but after having three children in four years, we moved to Mumbles in Wales in 1991 for a better quality of life. But our relationship broke down and we divorced five years later.
I met Leola's father at a party in 1997 and I fell for him. He was a Londoner living locally, like myself, and artistic, funny and charming. He was 42, I was 38, and I fell in love. After struggling on my own, I wanted to believe in someone but when I got pregnant, the relationship broke down.
I was devastated. How was I going to raise another child on my own? But I didn't want an abortion and I naively thought he would change his mind and want to be with us. But I gave birth to Leola and I've never regretted having her. Leola was always easygoing even as a baby. I taught violin at home to make ends meet and she would hum along in my arms. Her baby shoes reminded me of the joy of her taking her first steps, and the exhaustion and isolation of being on my ow
While Josette mainly lived with her father, Kieran and Marley were like little men in their eagerness to look after her. When Leola was three, she thought all men were called Dad. I agonised over how to tell her and when. Her little sandals reminded me of those times when she was struggling with trying to find out why she was different than her friends. Aged five, she came home from school saying she wanted to fly away in a plane and find her dad. I said we couldn't because I didn't know where he was.
Then when she was six she began to accept that her father didn't want to be in our lives.
I have always been creative, and I channelled that into doing things with Leola and creating a weekly routine. We would walk by the sea in Mumbles every week because I wanted her to be active, and every Saturday, I took her to the Royal Welsh College of Music and Drama, where she did drama and music. There's a pair of pink silk shoes that reminded me of her playing piano on stage.
In 2009, after her brothers moved out we moved to Hoxton, east London, where I took a footwear design course. She was 11 and would sit on the floor playing with Polly Pockets while I worked. We'd then go to a gallery and have fish and chips. When my course finished, we moved to Oxford.
Leola never went through a rebellious period, except for refusing to wear the flat shoes that I wanted her to wear for good posture. Those are the shoes that look barely worn. Not like her Converse, which are the pair she wore when we both went to meet her half-sister from her dad's side, Lotte, now 28, in July 2013 in London.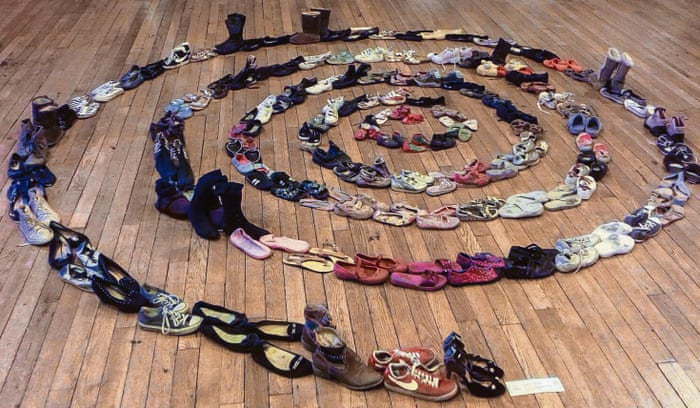 She'd contacted Leola and I was worried meeting would upset her but only good has come out of it. While Leola still hasn't met her father, who has remarried, she now has two more half-sisters, Lily 33, and Lotte. Lily is a dress designer in LA and made Josette's wedding dress when she married her American husband in California last year.
Childhood Footsteps, which showed for one week, brought up a lot of memories. Being a solo parent has meant that I've shared more with Leola than any mother should. In all that time, I never had a partner until four years ago, when I met O'Brien.
I'm so proud of Leola, who is off to university this September, and all my children. Being a single parent is dishevelling. Seeing all those shoes remind me of all the hard times struggling to make ends meet, the isolation and the joy. I've pulled it off, but it's left me fragmented. Now I'm looking forward to getting to grips with who I am outside of motherhood.
Leola
I always knew my mum saved my shoes but I never thought about it. So when they were exhibited, it was like finding diaries from my childhood.
I never knew my dad, and my mum raised us. Seeing how worn some shoes were made me realise how tough it must have been financially.
I was aware we didn't have as much money as my friends because I wasn't able to get the kind of shoes that they had. When I did get a pair I really wanted, I really appreciated it. There's a pair in the exhibition that I had begged my mum for when I was five which had lights that flashed when I walked, and reminded me of the seafront walks I used to do with my mum and brothers.
My mum always stood out in Mumbles, because she was so colourful. Our living room was painted bright pink, my bedroom was yellow and we would always be sent out with mismatching clothes. Although, she always made sure I wore sensible, flat shoes because she said she wanted me to have good posture. I hated them and they look as new because I used to sneak off to school with other shoes and change when I got home.
My mum and I are so close because it was mainly just me and her as I grew up once my brothers had moved out.
We had a different relationship than my friends had with their mothers because she was a single mum. If she was struggling to pay the bills, or if she was feeling sad, she would tell me. I made an effort to be extra good so that she didn't have to worry about me, too.
Mum seemed at her happiest when we moved to London when I was 11, and I began to see her in a new light. In Wales, she stood out as being eccentric; there she was creative and interesting. We moved a year later to Oxford, which seemed really quiet. We had gone from a home that was so busy with my brothers, to the buzz of London, and now there were just the two of us.
I was 13 when my stepsister Lotte said she wanted to meet. I was really nervous but wore my Converse because I wanted to be comfortable – I even wore them to Josette's wedding, too. She had brought a photo album so she could show me pictures from her childhood and of our other half-sister, Lily. They had only found out about me because an aunt had told them.
Since then, I've been to LA for Josette's wedding and met Lily, who designed the wedding dress. I still haven't met my father and he is now in another relationship. It is odd having half-sisters who look similar but who are also strangers. We keep in touch via a WhatsApp group we call the L sisters, and I'm still trying to navigate my way around how I feel.
In all the time I was growing up, Mum never had a boyfriend, which I was glad about, because I didn't want a step-parent, thinking that they would ruin what we had. Now, I appreciate that this isn't true or fair, and so I'm glad she has met someone. I was 15 when I met O'Brien, which was unsettling, but it was never suggested that he was going to move in or try to be my stepfather. Now I'm glad that she has him.
Seeing all my shoes from babyhood to now was emotional, but it made me appreciate how creative and intelligent my mum is, and what she has had to give up in order to raise us. I'm so proud of her, and hope that she will now have the time and space to pursue the things that she loves.
["Source-ndtv"]