Safe to wear and trendy for casual and formal dressing define the jewelry-making industry in South Korea.
Companies adopt brass widely for its skin-friendly attributes. The material does not contain toxic metal such as lead, cadmium, cobalt and nickel, in addition to being lightweight and highly malleable. There are also pieces that are made of steel, tin and zinc and likewise have no nickel, lead or cadmium content. To enhance product quality, many makers add a coating to prevent tarnishing and discoloration.
As for designs, suppliers follow global trends for simple or nonshowy but fashionable pieces that go well with either everyday or formal wear. Releases come mainly in white, rose or yellow gold and many feature Swarovski crystals for accent. Some are hand- and machine-made.
The products in this gallery have been handpicked by our South Korea-based market analyst for representing current trends in matching jewelry sets.
Brass, tin alloy, hypoallergenic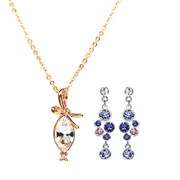 For everyday use or special occasions, this matching jewelry set from Nabist consists of model NSN1063-1 brass necklace and model NSE1051 tin alloy earrings. The pieces have a white, rose or yellow gold plating and are encrusted with Swarovski gemstones. These contain no nickel or lead so will not cause skin irritation. Custom packaging can be provided.
Handcrafted, machine-made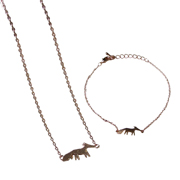 Model BG20004N-P necklace and model BG20008B-P bracelet make up Noblee's brass jewelry set with a matching animal-shaped pendant and charm. These are crafted both by hand and machine and plated with silver or gold. The necklace measures 18cm in length and has a 5cm closure. The chain length and width can be modified.
Brass with gold or silver plating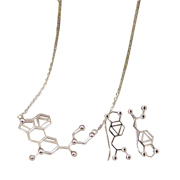 Noblee offers a handcrafted and machine-made jewelry set consisting of model BL20001N-S necklace and model BL3001E-S fish hook earrings. The pieces use brass with a choice of gold or silver plating. The 18cm-long necklace has a 5cm closure, but can be customized according to buyers' length and width.
Brass, zinc alloy, AAA stones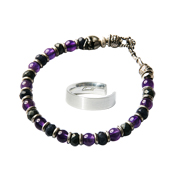 Qoocobb pairs model Gemstone Classic-23 bracelet with its Basic Silver Ring, both of which are handcrafted. The former features AAA-grade semiprecious stones such as amethyst, navy-blue agate and matte-gray hematite. Its metal parts are of brass and zinc alloy. The ring has a matte finish.
Handcrafted, hypoallergenic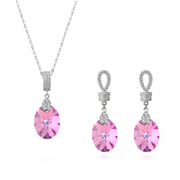 This matching set of handcrafted necklace and drop earrings from Seediglobal Co. Ltd features Swarovski crystals and brass parts with white or yellow gold plating. The nickel- and lead-free hypoallergenic pieces have an anti-tarnish treatment. The necklace is about 6g and the earrings are about 8.4g.
Hypoallergenic, anti-tarnish finish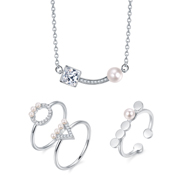 Seediglobal Co. Ltd puts together in a set model YCN5112 necklace, and models YR1611006, YR1611007 and YR1611011 rings. The white- or blue-tinted necklace is embellished with Swarovski crystals. It measures 24.5x7mm and weighs about 2.8g. The pieces are hypoallergenic and have an anti-tarnish coating.
["Source-globalsources"]