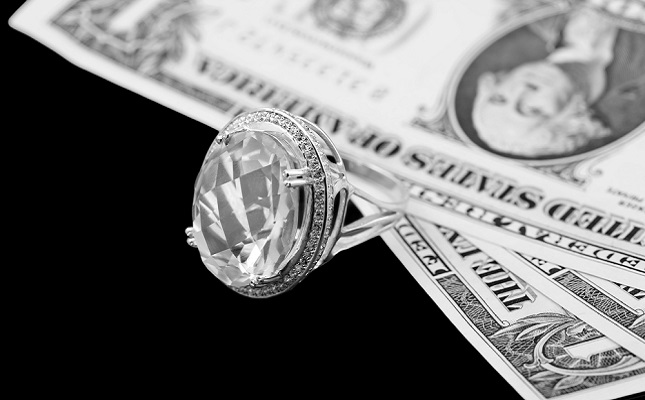 (IDEX Online) – Total diamond jewelry demand from US consumers increased 4.4 percent in 2016 to exceed $40 billion for the first time, according to industry insight data published today by De Beers Group.
While slower US GDP growth in the first quarter of 2017 is likely to have impacted diamond jewelry demand in the short term, the US has recorded five years of consecutive demand growth. US consumers now account for roughly half of all diamond jewelry purchases globally – a level not seen since before the financial crisis.
Although bridal diamond jewelry continues to be the foundation of demand in the US, more frequent acquisitions and a higher value of spend from single women helped drive demand. Meanwhile, self-purchase trends increased among both single and married women.
Fifty-seven percent of self-purchased diamond jewelry is acquired by married women, while a third is from Millennials. Retailers also reported high levels of consumer interest for multi-diamond pieces.
The data showed that consumers are spending more per piece on diamond jewelry, with retailers reporting an increase in the $1,000 to $4,999 category, De Beers claimed.
Globally, demand for diamond jewelry in 2016 increased marginally in US dollars (at actual exchange rates) to $80 billion, with demand growth from the US offsetting a contraction in India.
Demand from Chinese consumers grew 0.6 percent in local currency and has continued to improve in early 2017, with robust sales around Chinese New Year contributing to the positive performance in the first quarter.
Demand from Indian consumers started to return to more normal levels in 2017, following an 8.8 percent contraction (in local currency) in 2016 due to the jewelers' strike, demonetization and exchange rates.
Demand from Japanese consumers declined 2.9 percent in local currency in 2016, but growth in US dollars reached 8.1 percent due to the strength of the yen.
Demand in the Gulf was impacted by a challenging macro-economic environment, driven by continued oil price weakness.
Further marginal global growth in diamond jewelry demand (in US dollar terms) is likely in 2017.
Bruce Cleaver, CEO, De Beers Group, said: "American consumers continue to express strong desire for diamonds, but their purchasing habits are changing rapidly. While bridal diamond jewelry remains fundamental, we are seeing both single and married women buying for themselves more frequently and more purchases being made online. Meanwhile, products such as multi-diamond jewelry are becoming more popular.
"However, while US demand drove global growth in 2016, it is increasing demand from emerging markets that is behind the last five years being the strongest on record. Despite some markets facing challenging conditions last year, we see this trend continuing, with improvements in demand from China and India, in particular, emerging in 2017."
["Source-ndtv"]