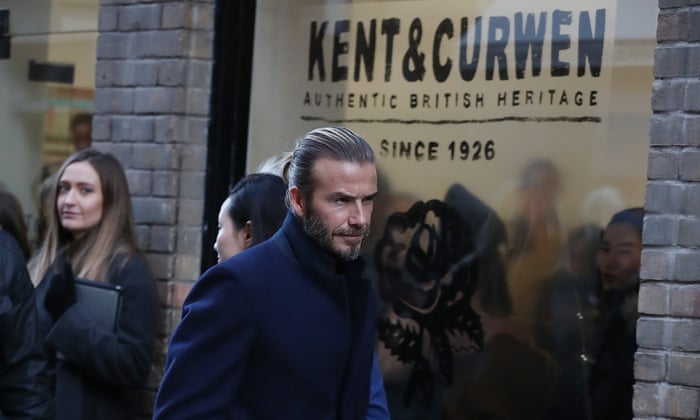 David Beckham attends the launch of Kent & Curwen Floral Street store on Sunday. Photograph: Neil Mockford/GC Images
London fashion week men's is dedicated – unsurprisingly – to finding a vision of modern British manhood. And David Beckham, Essex boy, football captain, dad, style setter and outright brand, has been a pin-up of mainstream masculinity for two decades now. Kent & Curwen, a rejuvenated brand founded on Savile Row in 1926, has been working with the him since 2015 when he become majority owner. To celebrate a new store on Floral Street – a move from Savile Row – Beckham hosted a lunch on Sunday. The menu was appropriate: pie and mash followed by sticky toffee pudding.
Kent & Curwen worked with Perry Ogden – the photographer behind the 1999 book Pony Kids, portraits of traveller teenagers and their horses – on its autumn-winter 2018 images. Displayed around the new store, these worked well to bring out the Beckham-branded type of British pedigree, one that comes with a bit of grit. They are of young boxers in Bethnal Green and footballers on Hackney Marshes, where a young Beckham played.
This is in contrast to Kent & Curwen's pre-Beckham image, one more comfortable on Savile Row. The clothes, designed by its creative director, Daniel Kearns, still retain a collegiate feel – striped knitwear, duffel coats and checked jackets – but the new aesthetic is coming through. There were also bomber jackets and a T-shirt with the emblazoned with "no guts, no glory". Other repeated motifs included the rose, as seen on the brand's signature rugby shirt, and the familiar three lions crest.
Beckham, who was sporting a neat man bun on Sunday, praised Ogden's "experience of shooting raw young talented kids", adding: "That's what the brand is about. It's very multi-generational. I can go in the store and find something great and my 15- or 18-year-old kid can go in the store and find something great."
The former England captain's own contribution plays out particularly well in Asia where Kent & Curwen have multiple stores, including 100 in China. "I think what I bring to this is I am very British, I did wear the three lions for 15 years," said Beckham. "Having the relationship in Asia that I have, the popularity that I have, it helps."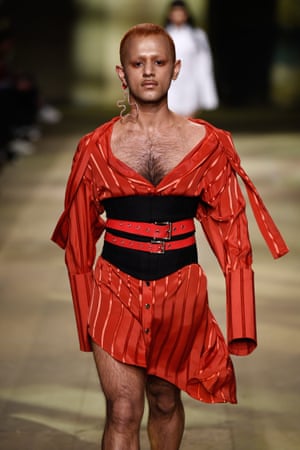 London fashion week men's is a place where non-binary identity and self-expression is welcome too, as evident at the MAN show earlier on Sunday. Sitting in the front row Munroe Bergdorf – the trans model who was sacked last year by L'Oreal over her criticism of white privilege.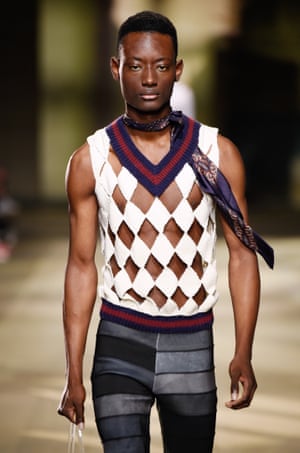 A showcase for three young labels featured Art School, Rottingdean Bazaar and newcomer Stefan Cooke. The first twohave swiftly established reputations for clothes that push at ideas of what menswear – or indeed clothes – can be. Cooke, by contrast, felt positively conventional despite male models dressed in skintight python-printed jeans, carrying handbags.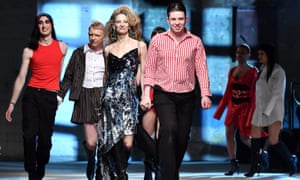 Art School, helmed by Tom Barratt and Eden Loweth, describes itself as a label to "celebrate the idiosyncratic individuality of queer style" and counts Bergdorf as one of its fans. While the show featured quite commercial slipdresses and suits with cropped jackets worn over hoodies, it was radical by its casting: the clothes were worn by male, female and trans models. Bergdorf, who was wearing a suit by the label, said: "Fashion is usually so binary and Art School offer an alternative view on gender. It's all about individuality."
Rottingdean Bazaar, designed by James Theseus Buck and Luke Brooks, and based in the Sussex town, is closer to art project than fashion label, although it should not be filed as purely conceptual. Rita Ora has worn the label.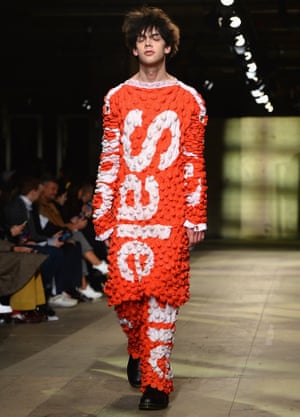 For this collection, their forgotten seaside location was an influence on pieces with the look of dusty tourist shops: a dress that read "sale", a breadboard on a sweatshirt that said "personalised cheese boards". One model wore what appeared to be a catsuit made out of price tags. Think Martin Parr's end of the pier aesthetic transferred to clothing mixed with an edge of Leigh Bowery-approved surrealism. Like Art School, Rottingdean Bazaar used non-professional models, different genders and varied body types. What a man looks like at the menswear shows in 2018? It's complicated.
["Source-theguardian"]