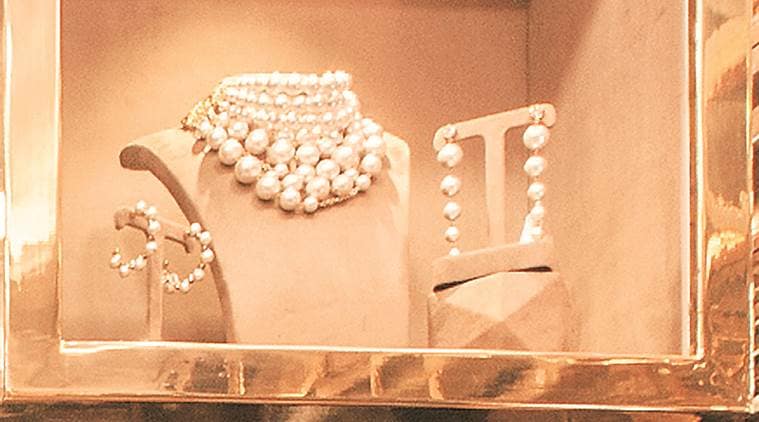 Jewellery on display at the designers' studio.
In 2011, singer-actor Selena Gomez wore Isharya's polka allure hoop earrings to the People's Choice Awards and gave the Indo-American designer jewellery brand its first starry-eyed red carpet moment. That was when co-founders and sisters-in-law Gauri and Radhika Tandon, who had launched Isharya "quite organically" in 2004, to design jewellery for themselves and their friends, discovered the power of celebrity endorsement. Since then, baubles by this "California-chic-meets-Bollywood-glam" brand have been worn by Kim Kardashian, Jennifer Lopez, Eva Longoria, Sonam Kapoor, Deepika Padukone and Priyanka Chopra, among others. Mumbai-based Gauri, a fashion merchandising student and London School of Economics graduate, and San Francisco-based intellectual property litigator Radhika, have dedicated themselves to making the trans-continental brand a global success. They've grown to a 25-member outfit with Gauri overseeing the design team and Radhika managing branding, sales and marketing. Last month saw the duo consolidate the presence of their 14-year-old jewellery label in India with the launch of a flagship store in Mumbai. Designed by interior designer and architect Bill Bensley, the Bandra studio is a reflection of their use of non-traditional materials, technological innovation and fashion-forward designs. We spoke to Gauri about what drives their "India-inspired" brand. Excerpts:
How do your Indian roots influence your design aesthetic?
From glamorous chandelier earrings to jewel encrusted cuffs and bold cocktail rings, each piece of gold-plated costume jewellery is designed to fuse an aesthetic of effortless California chic with Bollywood glamour. Although the brand is global, the inspiration is Indian. Isharya's collections are inspired by a plethora of themes — from prehistoric crocodiles to the temples of Hampi. We love to take age-old jewellery making techniques and heirloom details and apply them in new and interesting ways using modern technology. Like with our signature mirror glass that mimics Indian polkis or rose-cut diamonds. We have also reinvented Indian style enamelling as a way to infuse colour. Our latest collection 'Empress Warrior', has detailing reminiscent of the dome turrets of Gwalior Fort and embodies strength, skill and confidence inspired by Rani Lakshmibai.
Did your foray into the international market in the beginning make the local market more welcoming?
The Indian market wasn't ready for a premium designer jewellery brand like Isharya at the time, hence we channelled our energies into markets that were. We knew that the Indian market was better developed around 2010, when we started receiving appreciation and queries locally. Today, Indian consumers have global tastes, brand awareness and an appreciation for quality design. And the brand recognition has definitely helped to differentiate us from other home-grown brands. Once you're stocked at prestigious stores like Harvey Nichols, people take notice and this lends the brand's credibility.
Has the celebrity spotting game given Isharya an added advantage?
It's still an amazing feeling to see Isharya spotted on international celebrities such as Kim Kardashian, Jennifer Lopez, Freida Pinto and Selena Gomez. It definitely helps build brand recall and positioning — if A-list celebs can wear Isharya on the red carpet, so can I! Now we are also very excited to accessorise Bollywood leading ladies like Sonam, Alia, Priyanka and Kareena.
How is your store a reflection of your design philosophy?
Each nuanced element of the store essays the journey of Isharya. From a metallic filigree lattice grill of the brand's logo encasing the door, to the marble flooring with brass inlay with detailing in the style of druzy-cut agate semi-precious stones — one of the unique materials seen in Isharya jewellery, to the window display featuring a contemporary brass spike inspired by our 'Filigree Spoke' collection — there is an interesting juxtaposition of tradition and modernity. The antique wall mirrors use our trademark hand-cut polki mirrors, and the ventilation covers are reminiscent of the 'Hampi Collection'; their structure designed like the ancient step-wells of the UNESCO heritage site.
["Source-indianexpress"]