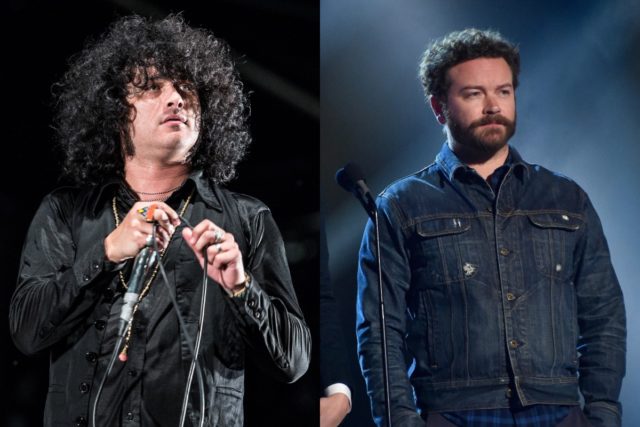 Earlier this year, as reported by Brooklyn Vegan, sexual assault allegation against actor and longtime Scientologist Danny Masterson found an unlikely outlet in the lyrics of a song on At the Drive-In's fourth album in•ter a•li•a, released in May, though almost nobody picked up on it at the time.
Allegations against Masterson first became public in March, when Los Angeles police confirmed journalist Tony Ortega's report that the department was investigating three alleged rapes by the former That '70s Show actor. The story gained even more traction in the post-Harvey Weinstein climate, as the Huffington Post and other outlets reported further on the cases. Through a representative, Masterson denied the allegations, calling them "false," and suggested they were prompted by actress Leah Remini's documentary series Scientology and the Aftermath, which is sharply critical of the Church.
Though few members of the public were aware of it, At the Drive-In frontman Cedric Bixler-Zavala (also formerly of the Mars Volta) had a personal connection to one of Masterson's alleged victims. Bixler-Zavala's wife of eight years, Chrissie Carnell Bixler, has now publicly accused Masterson of raping her. Like other alleged victims, Chrissie Bixler was previously a member of Scientology herself, and reportedly had dated Masterson; the two were often photographed together around the turn of the millennium. According to Cedric, Chrissie is one of the women who approached LAPD to accuse Masterson.
After Chrissie came forward as an accuser, Cedric took to Twitter to suggest that At the Drive-In listeners had missed something. "U might wanna go back and re read my 'nonsensical' lyrics off our last ATDI record," he wrote. Fans quickly identified one recent song in particular: "Incurably Innocent," which features lines like, "A blank tape that couldn't remember / But you can never erase the hurt," and, "In a closet she hid in eternity sleep / With the fear of God at the end of his whip." Months earlier, in an interview with NME, Cedric described "Incurably Innocent" as "a song about sexual abuse and being able to finally speak out."
Another line in the song, fans suggested, pointed even more directly to Masterson's prominent position in the Church of Scientology: "You locked up in the trance of a memory / Marching to the coffins on Franklin Avenue." The Church's Los Angeles "Celebrity Centre," a location aimed at attracting high-profile figures to the movement, is located on Franklin Avenue. (Chrissie Bixler subsequently appeared to confirm this interpretation with a retweet.)
In the present moment of societal reckoning with sexual harassment and assault, Chrissie Bixler's allegation against Masterson is sadly not unusual. The involvement of Scientology, however, appears to have complicated the case. Ex-Scientologists have long accused the organization of using intimidation tactics against critics, particularly when those critics are former members of the Church. According to journalist Yashari Ali's report for the Huffington Post, a total of four women have accused Masterson of rape, but a criminal case against him remains "inexplicably stalled" despite evidence described as "overwhelming." The first woman to accuse Masterson reportedly filed a police report in 2004, but after more than 50 active Scientologists denied her account, the case did not proceed. The woman's case file is said to have later "vanished."
Masterson currently stars in The Ranch, an original series on Netflix, which reportedly has not taken action in response to the allegations. The show has remained on schedule, with a fourth season due to arriveDecember 15. Chrissie Bixler has separately spoken out against the streaming service, telling the Daily Beast, "What Netflix has done, feels like a continuation of how the Church of Scientology made me feel when I reported my rape to them."
In recent days, the Bixlers have further accused Scientology of harassing and monitoring them personally, apparently in reaction to Chrissie's allegation. "Our phones and computers have been tapped and the Church has been outsourcing private investigators and various thugs to follow and try and intimidate my family under the policy known as fair game," Cedric Bixler-Zavala wrote on Twitter. "If anything happens to my wife while I'm gone on tour then you'll know why."
source:-spin.