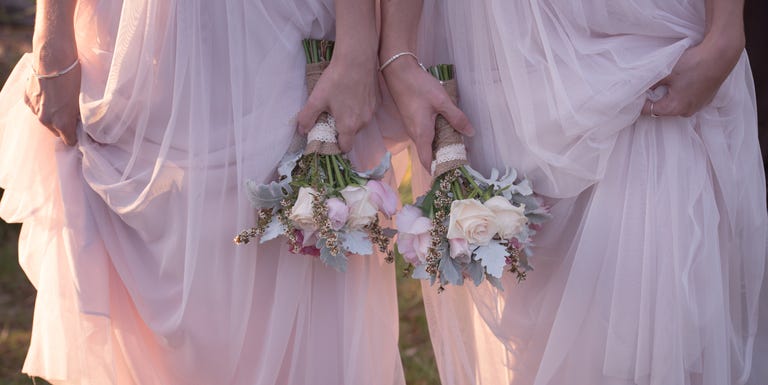 If you're planning a wedding in 2018 or are attending one as a bridesmaid, then you might want to take note of the colour touted by experts as the most popular for the year ahead.
According to Wedding Wire, there's only one colour bridesmaids should be seen in this year, and it's actually really quite cute.
A more edgy take on that pastel pink hue that fills every soon-to-be-bridesmaid's head with nightmares, this 'Nostalgia Rose' is darker, more vintage-inspired and way cooler.
Wedding Wire writes: "Blush has been the "it" colour when it comes to classic bridesmaid dresses, however this season we saw a richer hue hit the runways—Nostalgia Rose.
"It's still a pink but with hints of purple and was seen in almost every 2018 bridesmaid dress collection. The deeper and darker pink is an upgrade from the soft and girly blushes we've seen in the past."
Shop some of our fave pink bridesmaid dresses available to buy now:
Cecelia in Smoked Blush, £180, TH & TH
BUY NOW
Daphne dress, £162, BHLDN
BUY NOW
Dark pink lace 'Renee' dress, £35, Chi Chi London @ Debenhams
BUY NOW
Lumiere cold-shoulder ruffled embellished tulle gown, £425, Needle & Thread @ Net-A-Porter
["Source-cosmopolitan"]