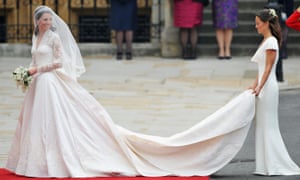 Everyone loves a spring wedding, and next month all eyes will be on Pippa Middleton's dress when she ties the knot with financier James Matthews at her parents' local church in Englefield, Berkshire. Given that the Alexander McQueen-designed bridesmaid's dress she wore for her sister's wedding reportedly cost £20,000, odds are that her bridal equivalent won't be far off that figure.
Not many couples can afford to play in that league. But for others intending to tie the knot this year there is good news. Designers for leading high street brands are finally bringing affordable wedding wear to what has traditionally been one of fashion's priciest niche markets.
Topshop has become the latest in a growing number of high street stores offering a range of wedding wear at less than half the price of that offered by more traditional specialists.
Topshop Bride's new collection features strapless, tie-shoulder, Bardot and "cold shoulder" gowns, finished with tiered layers, peplums and sweeping trains. Prices range from £350 to £795, and between £85 and £245 for bridesmaids' dresses.
Elsewhere on the high street, Dorothy Perkins is about to unveil its first bridal collection, with prices starting from a budget-friendly £85 to £175, in sizes 8 to 18. The first capsule collection launches later this month. To cater for the tastes of more mature brides, online fashion retailer JD Williams has just launched its first bridal collection, designed with the 45-plus woman in mind, with sizes ranging from 10 to 32. The most expensive dress costs £250.
The bridal gown is still one of the biggest single items of wedding expenditure, with brides often having little choice but to stick with the more traditional outlets, where even a fitting can come at a price.
Evidence now seems to suggest that couples are keen to embrace a move towards cut-price wedding wear. Global fashion search engine Lyst predicts that the average cost of a bridal gown this year will be £832 – down 25% from last year, when that average price tag was £1,112. Its prediction is based on search, sales and active browsing figures across 12,000 websites and a survey of 100 brides-to-be.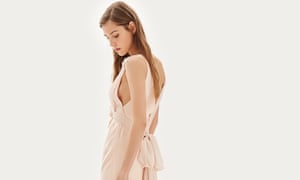 Camilla Clarkson, a spokesperson for Lyst, says the substantial drop in the amount people are likely to spend on a dress this year is a direct result of the sudden surge in high street wedding wear.
"Previously, brides were turning to the higher end brands like Alice Temperley," says Clarkson. "Now they have the option to shop collections from high street favourites such as Whistles and Topshop, and we think these new releases are going to make a big impact."
And tastes are clearly changing, with not everyone looking for a dress – the search engine has seen a 30% increase in searches for white jumpsuits and an 18% increase in searches for white tailoring since January.
As well as saving on the dress, many couples are happy to turn to the high street for other aspects of their wedding. This is perhaps not surprising when, according to Brides ,magazine the average cost of a wedding is £30,000.
Kat Williams, the founder and editor of Rock'n'Roll Bride magazine and blog – set up to provide "the ultimate guide for alternative brides" – says modern couples are turning their backs on expensive gimmicks such as photobooths and "doughnut walls" in favour of boho chic and DIY-inspired creativity.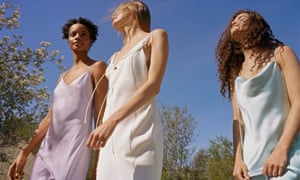 "It's become very obvious over the past few years that a lot more couples who want to have non-traditional weddings also want to look at ways to cut costs," says Williams. "It could be because more couples are footing the bill themselves, rather than having their parents paying, or just because they are realising that they don't have to spend £20,000 to have a great day. Having a budget-friendly or DIY wedding is no longer embarrassing – it's a real trend."
There are many ways to slash wedding costs if couples are prepared to be creative and flexible, she says.
"Having the wedding at home or choosing a venue such as a pub will save cash, and with more and more high street and online stores doing wedding dresses – Monsoon, Topshop, Boohoo, Asos, Missguided and Ted Baker to name but a few. Brides have never had more choice."
Hiring a dress or even buying a secondhand or vintage dress is also an increasingly popular and affordable choice for brides-to-be. Oxfam sells not only vintage dresses online and through its 11 bridal charity shops but also brand new designer gowns donated by bridal chains that may only have been worn once by a model – on a catwalk or for a photoshoot.
Couples on a budget are also turning away from professional florists to supermarkets for their blooms for the big day. German discounter Lidl has this month launched a "capsule" collection of bridal blooms to furnish the wedding party for less than £150 – a saving of 90% compared with the £1,500 typically quoted by professional florists. Lidl has linked up with the celebrity florist Jamie Aston to show brides how they can create luxury flower arrangements for a fraction of the price on the big day. A selection of spring flowers, which includes 100 roses, 80 chrysanthemums and more than 160 tulips – enough blooms to make a bridal bouquet, three bridesmaids' bouquets, six buttonholes and eight table displays – is £149.
Personalised and lavish stationery and invitations can also send a wedding bill sky high, and many couples are opting for cheaper alternatives or making them by hand. The Hobbycraft chain says that using its readymade range for a wedding party of 50 could mean a saving of 21% on invitions and "save the date" reminders alone.
Sales of artificial flowers, meanwhile, are up by 14% compared with last year, as people opt to use them for displays and centrepieces in another budget-cutting move.