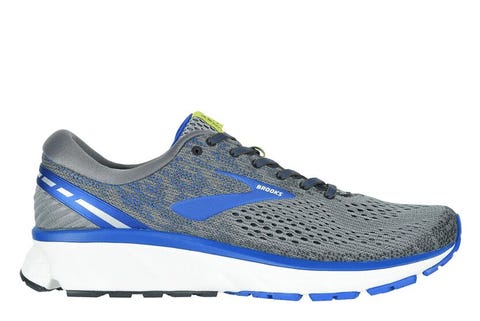 Ghost 11
A legacy neutral trainer from Brooks that continues to impress.
$120 | Zappos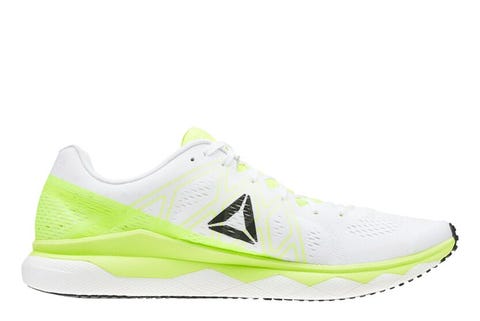 FloatRide Run Fast
Simply put, this Reebok one of the best shoes we've tested.
$140 | Jack Rabbit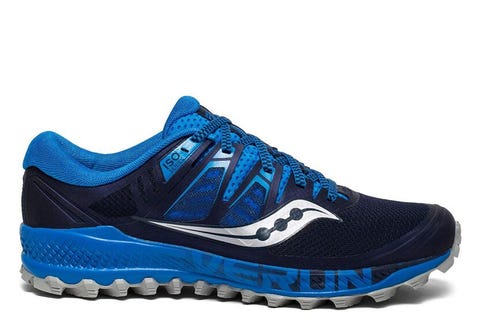 Peregrine ISO
If you love on-trail traction, look no further than this Saucony.
$120 | Zappos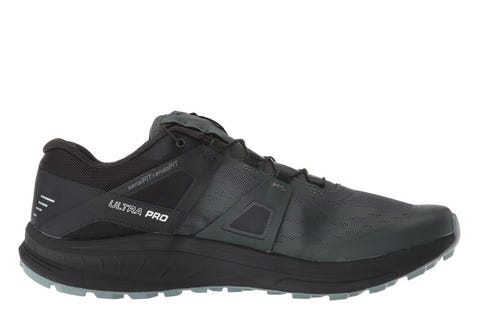 Ultra Pro
This Salomon lets you bring high-level comfort on the trails with you.
$150 | Zappos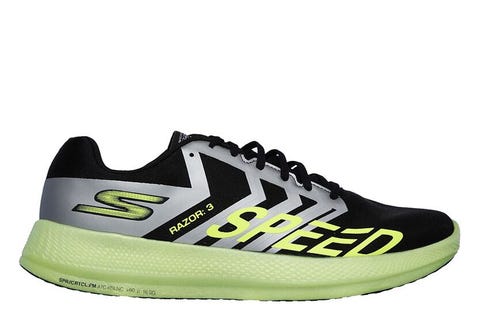 GOrun Razor 3
This lightweight model from Skechers has a new, high-tech midsole.
$135 |
We are constantly testing the latest running shoes in our lab and on the feet of runners in Eastern Pennsylvania. After putting hundreds of pairs through the ringer and evaluating the data, we highlight the top performers in our Best Shoesguide. Here we've rounded up some of our favorite picks from that guide for men, along with the best new men's running shoes we've had the chance to evaluate.
But any "best shoes" guide comes with a caveat: There's no one model that works for every runner. When picking a shoe, you should first consider your running style and needs. Do you prefer a shoe that's soft or something firmer? Do you generally run long distances or keep it short? Are you an overpronator? The list goes on. In this roundup, we've included a range of shoes that offer something for a variety of running styles.
We evaluate shoes in a number of categories, such as stability, cushioning, weight, and drop. To help you better understand those ratings and compare the kicks below, here's a breakdown of what those different categories entail.
Stability
In terms of running shoe design, stability refers to a shoe's ability to support good running form. Typically, that means an optimal level of pronation (more on that here). If you're an overpronator—your feet roll inward—and prefer stability, these shoes have features to help counter that movement. These include firmer foams in key areas of the midsole, like the medial post found in the 361 Strata below, or additional material on the edge of the sole to keep your foot in place, like in the Brooks Adrenaline GTS. If you don't overpronate, you'll likely prefer a "neutral" shoe, which doesn't have extra support features and won't interfere with your stride.
Cushioning
This is an area where opinions vary widely. Runners who focus on speed often prefer a firmer shoe that gives them a good feel for the ground. Generally, less cushioning also yields a lighter shoe, which is crucial when trying to shave fractions of a second off your finish time. Others like something plush that absorbs impact forces. That's important for longer runs, because the extra cushioning can reduce aches from tired feet and joints. To give you an idea of how soft a shoe is, we report the findings from tests in our lab.
Drop
Drop refers to the difference in height between your heel and your toes when you're wearing a shoe. A higher drop helps you roll through your stride, but it can lead to heel striking in some runners. A lower drop (or no drop) in a shoe promotes a more natural stride. The full reviews for the shoes below have more info on their drop measurements.
And that's just the beginning—we also test shoes on flexibility, energy return, weight, and more. Click on a shoe's full review to get all the data and in-depth analysis. Happy hunting!
---
New Balance Fresh Foam Beacon
The right shoe for: Runners wanting a lightweight option for long runs and speed work
There's a lot to love about the Beacon. It's light. It's comfortable. It can go fast, but it has enough cushioning to keep you going through double-digit mileage. We named it one of the best lightweight shoes of 2018, and that's largely thanks to New Balance's innovative Fresh Foam cushioning, which keeps this shoe both light and well cushioned. If you regularly bounce from sprints to long runs and need a shoe that can keep up, this is a great candidate.
---
361 Degrees Strata 2
The right shoe for: Fresh legs and stability through the last mile of your long run
361's top-tier stability shoe comes loaded with features designed for overpronators. Its dual layer midsole has a bouncy EVA/rubber blend that gives good cushioning and energy return, a carbon fiber plate in the midfoot keeps the shoe from twisting, and a medial post (a layer of firmer foam) counters overpronation as you run. While it's on the heavy side and not very flexible, the Strata 2 creates a stable, well cushioned ride that'll keep you going mile after mile.
---
Reebok Floatride Run Fast
The right shoe for: Speed days and longer distance races that require more protection than a racing flat
A 2018 Gear of the Year winner, the Run Fast uses ultralight, ultra-bouncy Pebax foam to create a shoe that's nimble but still cushions your feet. In addition to a generous wedge of Pebax foam, these kicks feature a rim of traditional EVA to keep your foot stable and centered, along with a high drop to help propel you forward. The result is a shoe that feels fast but provides more cushion, traction, and durability than your typical racer.
---
Brooks Ghost 11
The right shoe for: Long runs, and new runners
Brooks has found a winning formula with the Ghost, which has nabbed Editor's Choice honors seven times including this iteration. The Ghost 11 uses an improved foam for a lighter feel, and the midsole has been tweaked to deliver better impact absorption and a smoother stride than previous versions. Add in a toothy outsole for great traction and a snug-fitting upper, and you've got a shoe that should appeal to a wide range of runners.
---
Saucony Ride ISO
The right shoe for: Runners who want a shoe that should withstand a season of mileage
The Ride delivers big on cushioning and comfort thanks to two types of foam in the midsole and Saucony's premium upper design, called ISOFit. With ISOFit, the laces are looped through separated tabs rather than eyelet holes, which allows the shoe to flex more easily and gives you fine-tuned control over the tightness of the fit. Plus, deep grooves on the outsole add even more flexibility to promote a smooth stride.
---
Nike Zoom Pegasus 35 Turbo
The right shoe for: Speed sessions and race day just got faster
The beloved Peg has long been a staple in Nike's running lineup, but the Turbo version turns things up a notch with the addition of the company's new Pebax-based ZoomX foam, which is very light and bouncy. The foam also makes this shoe exceptionally soft, and all these factors combine for a shoe that feels light and fast but also delivers solid shock absorption for longer runs. Despite a loose fit, these shoes proved incredibly versatile, especially for racing.
---
Salomon Ultra Pro
The right shoe for: Ultrarunners who want a shoe to conquer all conditions
The Ultra Pro is based on Salomon's top-tier ultrarunning shoe, the S/Lab Sense Ultra, and although this is a shoe for the rest of us, it's a stellar option for hitting the trails. It's not exceptionally firm or soft and it's relatively stiff, but these Goldilocks traits help keep you upright and comfortable over long distances. Its midfoot wrap creates stability and a snug fit, and the Premium Wet Contagrip outsole delivers excellent bite in slick conditions.
---
Skechers GORun Razor 3 Hyper
The right shoe for: Running fast

The foam wars continue with Hyper Burst, the new EVA formulation that Skechers developed for this shoe. Check out our full review for insight into how it's made, but here's the quick overview: Hyper Burst is an EVA foam with irregularly shaped air pockets, which make the foam lighter. In the Razor 3 Hyper, this lightweight material is combined with a lean mesh upper and minimalist rubber outsole. The result is a true go-fast shoe that also provides some cushion for longer races.
---
Saucony Peregrine ISO
The right shoe for: Trail junkies who want confident footing and reliable cushioning
A favorite among trail runners, the latest version of the Peregrine combines its legendary grip with Saucony's ISOFit upper construction. With the laces looped through independent tabs rather than eyelets, the upper adapts to swelling feet and allows you to dial in the fit to your liking. It also comes with a layer of TPU-based Everun foam for a plusher ride and more bounce. And of course, the Peregrine's toothy outsole creates sure footing on all kinds of gnarly terrain.
---
Brooks Adrenaline GTS 19
The right shoe for: Runners who want mild stability
The Adrenaline GTS is a well loved stability shoe, but Brooks swapped out its previous support technology with guide rails in this iteration. This design places material along the edges of the sole to keep your feet in place, which makes it accessible for both pronators and neutral runners, too (support is there only if you need it). Overall, the shoe feels lighter and firmer than previous models but still provides good shock absorption, and the rubber outsole delivers great traction and durability.
["source=runnersworld"]